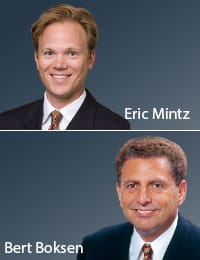 June 23, 2022
PRESS RELEASE
Eagle Asset Management's Eric Mintz Appointed Managing Director of Small Cap Growth and Mid Cap Growth Portfolios
Additional team promotions reflect planned transition as longtime portfolio manager chooses shift to
new phase of investing career
ST. PETERSBURG, Fla. — Eagle Asset Management (Eagle), a boutique equity and fixed income manager and an affiliate of Carillon Tower Advisers (Carillon), announced that the managing director responsibilities of the Eagle Small Cap Growth and Eagle Mid Cap Growth portfolios, as well as their affiliated commingled funds, will shift to Eric Mintz, CFA, effective Sept. 30.
After more than 40 years, Bert L. Boksen, CFA, who currently leads the two strategies, has chosen to move to a new phase of his distinguished career in the asset management business. Boksen will continue as a portfolio manager through next February focusing on the financial services sector. Thereafter, Boksen will remain at Eagle working with Ed Rick, CFA — Carillon's head of investment insights and development — to provide investment guidance across Eagle and share his view on industry trends.
Notably, this is a long-planned shifting of responsibilities within a team that has worked together — including Mintz, Boksen and Chris Sassouni, DMD, as co-managers as well as the research analysts who comprise the balance of the team — for more than a decade. Mintz, who has 27 years of investment experience, has worked alongside Boksen and Sassouni for 17 years.
As part of this long-planned transition, Sassouni will continue his role as a portfolio co-manager with a focus on the healthcare space. In addition, Eagle is promoting, effective today, Senior Research Analyst David Cavanaugh, who has 26 years of industry experience and five years with the team, to portfolio co-manager. He will have a particular focus on the consumer sector.
There is no plan to change the overall investing philosophy or process for the Eagle Small Cap Growth and Eagle Mid Cap Growth portfolios.
"We had planned for this more than a decade ago," said Boksen. "That included Eric working hand in hand with me in executing our long-held investment philosophy and process. It also importantly included building and fostering a team of dedicated and focused research analysts that has worked together now for at least 10 years. I know I will be leaving the portfolios — as well as many treasured relationships — in the hands of cohesive, skilled and experienced professionals who all have contributed significantly to our successes."
The Eagle Small Cap Growth and Eagle Mid Cap Growth team includes analysts Adam Gallina, CFA (technology); Andrew Adebonojo, CFA (finance/biotech); and Tariq Siddiqi, CFA (technology), who will retain their roles and responsibilities.
Crystal Wamble, CFA, a longtime member of the Carillon client portfolio management team, will become a research analyst on the team effective June 30. She will cover the consumer sectors (discretionary and staples) and will work with Cavanaugh and Boksen. Wamble joined Eagle nine years ago.
Additionally, Eagle will be promoting Jason Fitzpatrick from his current role as the team's research associate to research analyst effective Sept. 30. Fitzpatrick, who joined the growth-focused team two years ago, will cover industrials, basic materials and energy. He previously worked on Eagle's equity trading desk for five years.
"This is a natural progression in these associates' career paths and one we envisioned years ago as part of our overall succession planning," said Rick. "We all have the utmost confidence Mintz, Sassouni, Cavanaugh and the entire team will thrive going forward."
About Eagle Asset Management
Founded in 1984, Eagle Asset Management, an affiliate of Carillon Tower Advisers, provides an array of fundamental equity and fixed income strategies designed to meet long-term goals of institutional and wealth clients. Eagle's multiple independent investment teams overseeing separately managed accounts and mutual funds have the autonomy to pursue investment decisions guided by their unique philosophies and strategies. Visit www.eagleasset.com.
About Carillon Tower Advisers, Inc.
Carillon Tower Advisers is a global asset management company that combines the exceptional insight and agility of individual investment teams with the strength and stability of a full-service firm. Together with our partner affiliates — Chartwell Investment Partners, ClariVest Asset Management, Cougar Global Investments, Eagle Asset Management, Reams Asset Management, and Scout Investments — we offer a range of investment strategies and asset classes through multiple vehicles. Our focus is on sustainable, risk-adjusted returns and alpha generation. We believe this lineup of institutional-class portfolio managers can help investors meet their long-term business and financial goals. Ultimately, our structure allows affiliated investment teams to focus on what they do best: managing portfolios.
Media Contacts:

Shree Dhond/Doug Allen
Dukas Linden Public Relations
(646) 722.6531/(646) 722.6530
carillontower@dlpr.com
CTA22-0400 Exp. 3-31-23