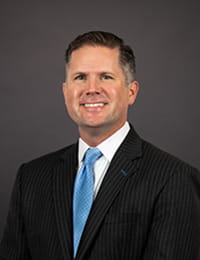 Michael Edwards is Head of Global Client Coverage and Marketing, which consists of all institutional, intermediary and international sales teams as well as the Marketing group.
Previously, he served as President of Scout Investments and was directly responsible for Scout and its fixed income division, Reams Asset Management. In this function he oversaw all aspects of maintaining and growing the firm's business. Before that, Edwards served as Raymond James Investment Management's Head of Affiliate Development where he was responsible for overseeing the strategic partnerships with Raymond James Investment Management's six affiliate firms. He was also responsible for coordinating the expansion of the group's product lineup, focusing on acquisitions, lift-outs, and new product development.
Edwards joined Raymond James in 2012, serving as an Assistant to the Chairman. His previous experience includes retail and institutional financial advisory roles at various broker/dealer firms. He also served as a Naval Flight Officer and Mission Commander in the United States Navy including flying 92 missions over Iraq and Afghanistan.
He earned a B.S. in Mechanical Engineering from the United States Naval Academy at Annapolis and an M.B.A. from Columbia Business School with a focus on finance.