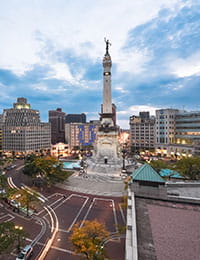 February 2, 2022
PRESS RELEASE
Reams Asset Management Hires Two Investment Analysts
Fixed income specialist adds depth to its credit team
Indianapolis, IN — Reams Asset Management, a fixed income specialist with $23.51 billion in assets under management, has announced that Sydney Buck, CFA, and Reed Clark have joined the firm as investment analysts on the credit team. Both will report to Todd Thompson, CFA, managing director and head of credit.
Previously, Buck was a senior analyst at the Indiana Public Retirement System, covering the private credit sector, traditional fixed income, and the risk parity component of the pension fund. Prior to that, she worked as a credit research analyst at 40|86 Advisors, focusing on the technology, media, and telecommunications sectors. She is a graduate of Butler University, where she graduated cum laude and was a varsity athlete and two-time captain of the women's basketball team. She was awarded her CFA charter in 2021.
Previously, Clark was an associate vice president on the sales and trading desk at R.W. Baird in Chicago, where he assisted in the research and execution of topical investment opportunities. He also generated macro strategy opinions on various parts of the credit market, such as curve slopes and spreads, for dissemination to institutional clients. He is a graduate of Washington and Lee University, where he was a four-year varsity football athlete.
"We are delighted to welcome two outstanding individuals to the Reams family," said Mark Egan, CFA, chief investment officer and managing director at Reams Asset Management. "We continue to build the depth and capacity of our investment research team.
"Our unique approach to investment management cultivates a close team of 'generalist' investors with involvement in virtually every part of the investment process. Both Sydney and Reed possess impressive core skills with which to integrate into the Reams process and have a meaningful impact on our future."
1 As of Dec. 31, 2021
About Reams Asset Management
Reams Asset Management is a fixed income specialist whose mission is to provide high-quality investment expertise and unmatched client service. Our investment approach, applied consistently since the firm was founded in 1981, seeks to take advantage of bond market volatility and react opportunistically to valuation discrepancies. Reams offers clients a broad range of standard fixed income strategies as well as flexible, customized solutions that seek to maximize risk-adjusted total returns over a full market cycle while minimizing downside risk.

Reams Asset Management is a division of Scout Investments, Inc., which is an affiliate of Carillon Tower Advisers Inc., a wholly owned subsidiary of Raymond James Financial, Inc.
About Carillon Tower Advisers, Inc.
Carillon Tower Advisers is a global asset management company that combines the exceptional insight and agility of individual investment teams with the strength and stability of a full-service firm. Together with our partner affiliates — ClariVest Asset Management, Cougar Global Investments, Eagle Asset Management, Reams Asset Management, and Scout Investments — we offer a range of investment strategies and asset classes through multiple vehicles. Our focus is on sustainable, risk-adjusted returns and alpha generation. We believe this lineup of institutional-class portfolio managers can help investors meet their long-term business and financial goals.

Ultimately, our structure allows affiliated investment teams to focus on what they do best: managing portfolios.
Media Contacts:

Mathew Horridge
Carillon Tower Advisers
(800) 521.1195
matt.horridge@carillontower.com

Shree Dhond/Doug Allen
Dukas Linden Public Relations
(646) 722.6531/(646) 722.6530
carillontower@dlpr.com
CTA22-0082 Exp. 12-31-22